Fitness and bodybuilding enthusiasts are constantly innovating new ways to build muscle. Many emphasize a natural approach instead of delving into substances to build their physique. Notably, Greg O'Gallagher, a prominent figure in online fitness, and the owner of a fitness brand Kinobody, shares some valuable methods for muscle enhancement.
America's Favorite Video Today
The Canadian fitness influencer often shares his wisdom and techniques with his followers. His new approaches offer a refreshing perspective on the endeavor of working out. His out-of-the-box thinking made him a star not only in the fitness world but in the film industry as well. Recently, O'Gallagher had talked about a new way to build muscle.
New technique to build muscle by Greg O'Gallagher
ADVERTISEMENT
Article continues below this ad
In his recent Instagram post, he advocated on how to gain core strength while muscle building. His methods differ from many others, but as he claims, it has worked for him. He hoped this could help others as well. O'Gallagher confidently claimed in his caption that "Most hopeless naturals follow routines by guys on steroids! No wonder they are not seeing results. You don't have their drugs. You follow my sh*t, you get strong Holmes." He accused other fitness influencers who depend on steroids, and that is the reason their followers do not get the desired results while following their routines.
'The Russian Bride' actor explained in the video "I am Only 175 lbs, yet I rep 315 on bench. I do 110-pound dumbbell shoulder presses. How am I so strong for my body weight? The key is in my training style. The way I train is called reverse pyramid training. I do my heavy set first for four to six reps…." He followed a unique style, different from the usual training routines, that completely focused on beginning with easy or lighter weights and gradually moving to heavy weights.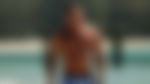 "Greek God From the Ocean": 31-Yo Fitness Icon AKA "The Real Bruce Wayne"
Channeling Inner Daniel Craig Sets Internet Ablaze
ADVERTISEMENT
Article continues below this ad
He went further with his illustration and said, "I usually drop the weight about 10%. From lifting 300 pounds, I'll go down to 270….You will gain more muscle and strengths that way than just doing reps with the same weight or building up the weight." In recent times, he shared another IG video on fitness and training and tried to debunk the myth that those who wanted a strong body had to give up the fun they had in their lives.
He disapproves of the old methods of staying fit
"The fitness industry was not about balance it was really about sacrificing your life," said Kinobody. He also suffered because of this outlook but learned he could do things differently. He realized only professional bodybuilders require such sacrifice to build Olympia's winning physique. However, that is not what the average person wants.
ADVERTISEMENT
Article continues below this ad
People usually think that getting fit means no social gatherings or even having a glass of wine, which will harm your health. He totally disagreed with this notion and changed to training for just three days a week. He molded his life to ensure that he did not miss out on living. What do you think of his new profound approach to staying fit and healthy? Let us know in the comments below.
WATCH THIS STORY: Legend Ronnie Coleman Couldn't Bear To Watch A Ridiculous weightlifting Attempt That Was Bound To Fail
Providing feedback will help us make your experience better.
Enjoyed Your Read? Let us know how likely you are to recommend EssentiallySports to your friends!