In the dynamic realm of fitness and bodybuilding, incidents that leave even legends speechless don't occur every day. Every so often, something unexpected happens that not only surprises everyone but also brings a bit of laughter to the community. That's exactly what happened when the well-known bodybuilder and fitness influencer Joey Swoll recently shared a video.
America's Favorite Video Today
Recently, Joey Swoll, a revered name in the bodybuilding circuit, found himself in the midst of a rare moment that captured the online world's attention. For those who don't know, Joey Swoll is a big name in the bodybuilding world. He maintains an impressive physique and commands a massive following on social media platforms for his mission of eliminating toxic gym culture.
The unforgettable reaction of Joey Swoll
ADVERTISEMENT
Article continues below this ad
The episode began when an unsuspecting gymgoer decided to film his bench pullover routine at a new fitness center. The caption accompanying the TikTok video read, "I was just trying to film my set in a new gym, and then this happened….." What followed can only be described as a sequence that borders on the comical and the utterly unexpected. Midway through his pullover set, a woman, presumably engrossed in her squat routine, unknowingly positions herself in a compromising manner, ultimately sitting on the man's face.
People often brush aside such gym accidents as just another day at the gym, even though they're unfortunate. But it's not every day that an incident like this grabs the attention of Joey Swoll. Transitioning to Joey's reaction, the bodybuilder, known for his composed and astute observations, was left absolutely flabbergasted. His eyes widened, his mouth agape, a visual representation of disbelief. Breaking the stunned silence, Joey, with a humor-laden undertone, exclaimed, "No, no, no way! You all don't need Joey Swoll; you all need Jesus."
125.6k readers Last 30 min
Watch This Story: Bodybuilding Beast Arnold Schwarzenegger's Top Six Pack Workouts
But Joey didn't just stop at the comment. Demonstrating his characteristic wit, he turned to an off-camera person (presumably his partner) and quipped, "Hey, babe, grab a dumbbell. I got an idea." The jest, as many would interpret it, plays into the idea of recreating the scenario, but with a planned and hilarious twist.
ADVERTISEMENT
Article continues below this ad
The power of online entertainment
Joey Swoll's reaction, however, was not the only highlight of the event. What added another layer of interest was his cheeky Instagram caption, "I just need a dumbbell and a volunteer…". With this, the CEO of Gym Positivity managed to induce chuckles even in those unfamiliar with the nuances of gym life. The incident, combined with Joey's lighthearted reaction, made for a perfect storm of online entertainment.
Providing feedback will help us make your experience better.
Enjoyed Your Read? Let us know how likely you are to recommend EssentiallySports to your friends!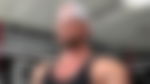 ADVERTISEMENT
Article continues below this ad
In the world of fitness, unexpected moments can both entertain and amaze. Joey Swoll's astonished reaction to the unforeseen gym mishap showcases the blend of humor and unpredictability in everyday life. Life's quirky turns sometimes leave even the greats utterly speechless, reminding us to find laughter amidst surprise.