The journey to superhero stardom is never straightforward; it requires fitness and vigor. With many actors aspiring, auditioning and ultimately making their mark in unexpected roles, John Krasinski's entry story into the Marvel Cinematic Universe (MCU). It showcases introspection, humor, and a memorable run-in with Chris Hemsworth.
America's Favorite Video Today
The industry celebrates Krasinski for his roles in The Office and A Quiet Place, but he had his sights set on the iconic Captain America role. However, he underwent a drastic change of perspective due to an unexpected encounter.
John Krasinski's moment of realization
ADVERTISEMENT
Article continues below this ad
Vanity Fair published an exclusive excerpt from the book MCU: The Reign of Marvel Studios. The book, from authors Joanna Robinson, Dave Gonzales, and Gavin Edwards, features the MCU's rigorous casting process for Captain America. The casting directors brought in Krasinski for the protagonist's role. He was among the other hopefuls for screen tests that included dressing up in the superhero's costume on a period set. The casting process not only tested acting skills but also placed a significant emphasis on physical fitness to truly embody the role of a super-soldier.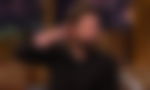 It was during one such test that Krasinski had a moment of self-reflection. Being "half-dressed when a pumped-up Chris Hemsworth walked by in his full Thor costume," Krasinski regarded his own physique and had a thought. "He wasn't actually cut out for playing an Adonis," after seeing the jacked body of Chris Hemsworth.
103.7k readers Last 30 min
However, while he might have felt momentarily disheartened, the MCU had different plans for him. Krasinski's journey didn't end with Captain America; instead, it took a different, perhaps more fitting turn.
Watch This Story: Years After Career-Ending Injury, Bodybuilding Veteran Recalls a Close Member Responsible for 'Any Niggling Injuries'
ADVERTISEMENT
Article continues below this ad
Fitness: Essential for superhero roles
Physical fitness is undeniably vital in portraying superhero characters effectively. John Krasinski, recognized for his distinguished roles, found his rightful place in the Marvel Cinematic Universe as Reed Richards in Doctor Strange in the Multiverse of Madness. In embracing this character, Krasinski identified with a role that mirrored his personal attributes and physique, thereby sidestepping inevitable comparisons with Chris Hemsworth's robust and commendable enactment of Thor.
Providing feedback will help us make your experience better.
Enjoyed Your Read? Let us know how likely you are to recommend EssentiallySports to your friends!
Assuming a superhero role entails more than mere physical appeal and apt costume fitting; it's fundamentally about internalizing and embodying the character. This process invariably demands adherence to rigorous routines of fitness and bodybuilding to attain the iconic physical presence associated with these celebrated roles.
ADVERTISEMENT
Article continues below this ad
John Krasinski's humorous yet insightful encounter with Chris Hemsworth highlights the crucial role of physicality in superhero portrayals. This story not only sheds light on the demanding nature of the industry but also inspires aspiring actors to find roles that truly resonate with their own identities and strengths. Let us know your thoughts on the same!