Strongman competitions are about more than just lifting heavy weights; they epitomize the fusion of mental and physical strength. The Mountain from Game of Thrones stands above the rest because of his extraordinary abilities. The Actor won the World's Strongest Man competition in 2018, and he's been a prominent figure in sports since. He has achieved many records and titles throughout his career.
America's Favorite Video Today
Recently, Arnold Sports Festival's Instagram page shared a post about Bjornsson Hafthor. They've uploaded a throwback video of him. He captivated the audience with his incredible and record-breaking weight lift. He took the strongman competition by storm, everybody was stunned and cheered for the strongman by his impeccable strength and prowess.
Hafthor Bjornsson's throwback video garnered the attention of fans
ADVERTISEMENT
Article continues below this ad
The Icelandic athlete, currently dealing with some hard times and taking therapy to cure his pec injuries. In one of his YouTube videos, he shared the complete details about the therapy and he also updated his fans that he needed some time to come back on the competitive stage from weightlifting. Evidently, fans were saddened but extremely supportive of his decision.
Moving on, the throwback video of Bjornsson is making the waves again on the surface of the internet. Arnold Sports captioned the video "Throwback to @thorbjornsson breaking the then Elephant Bar Deadlift world record with a 1041lb lift at the Arnold Strongman Classic in 2018." They further added, "We can't wait to welcome him back to action in March!."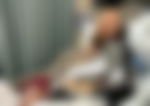 Weeks After Pec-Tear Surgery, 450 Lbs Game of Thrones Strongman Undergoes
Pain-Erasing Treatment to Complete His Recovery
Fans were baffled after seeing him lifting the unimaginable weight with such ease and dedication. He has persistently shown that he excels not only in acting but also in every endeavor he undertakes. The entire sports community, along with his fans, eagerly expected his return to the stage.
ADVERTISEMENT
Article continues below this ad
Fans flooded the comment box
This old video of him lifting 1041 pounds' weight stunned people around the globe. "That's like deadlifting a racehorse. Insane," Another wrote about how impressive it was by saying, "Best at deadlift both elephant bar and standard deadlift in history. Crazy impressive!!"
One fan thought he could do this but then he wrote, "Can I clea… never mind," Other fans wrote in the post "That was awesome! Viking Power!!" fans' comments were hilarious such comments read, "Even the bar. The bar is crying for him to stop…." and "I'm 100% sure that a new continent emerged when he dropped that amount of weight!"
ADVERTISEMENT
Article continues below this ad
The power and strength he has shown over the years by breaking his own records is unbelievable for everybody. What are your thoughts on Ser Gregor Clegane? Tell us in the comments below.
Watch This Story: 2x World's Strongest Man Shares an Eye-Opening Message About "Finding A Gym Space"
Providing feedback will help us make your experience better.
Enjoyed Your Read? Let us know how likely you are to recommend EssentiallySports to your friends!