The bodybuilding world has always been always curious about the perfect diet and perfect training routine to have the best possible physique. In the era of social media and fad diets, there is a surplus of misinformation that surrounds the fitness world. Now 81 years old, Frank Zane, a three-time Mr. Olympia champ, recently posted on Instagram about misinformation regarding the same.
America's Favorite Video Today
Mastering the art of bodybuilding from Frank Zane
Getting the body you want is like detailed art. It needs a lot of physical effort and strong mental focus to stick to a strict routine. Many bodybuilders from different times have tried hard to reach their goals, but only a few succeeded like the God of Aesthetics – Frank Zane. He won 3 Mr. Olympia titles and even beat Arnold Schwarzenegger, one of the greatest bodybuilders ever.
ADVERTISEMENT
Article continues below this ad
Recently, Frank Zane put up a picture on Instagram and penned in the post's caption, "One of the problems is that people who aren't experts, but act like experts, develop a false following. It's counterfeit material which is bound to spring up from every legitimate source of information. You have to know what's good and what's not. Experiment with it and see how it works. Test things out."
37.8k readers Last 30 min
Zane believes that one has to put in the effort to know what's right and wrong for the body, as everyone is built differently. Bodies react to food and exercise in different ways. So, without giving it a try, one would never know what's the correct diet or the perfect training routine to build a good shredded physique. As mentioned in his post, he asks his audience to "Test Things out."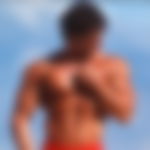 Former Mr. America Who Beat Bodybuilding 'Myth', Inspired 81 YO Frank Zane for
Pushing the Limits: "First Guy I Saw That Had Lines Right Across His Cuts"
On his Instagram, Zane likes to help people who want to become bodybuilders by sharing fitness tips. Sometimes, he talks about things that aren't usually talked about. Recently, Frank Zane was on Mike O'Hearn's podcast video on YouTube. They also worked out together before. In the podcast, they talked about Frank Zane's thoughts on various things.
ADVERTISEMENT
Article continues below this ad
Frank Zane says pictures show the truth better than mirrors
During their conversation, O'Hearn brought up the topic of photos versus mirrors. He said that looking at photos is better because mirrors can sometimes make you look different. Images can give a more accurate picture.
Providing feedback will help us make your experience better.
Enjoyed Your Read? Let us know how likely you are to recommend EssentiallySports to your friends!
In other words, O'Hearn was saying that photos are usually more truthful than mirrors because mirrors can be deceiving. He also mentioned that if you have a great photographer, good lighting, and the right conditions, photos can be very reliable. Frank Zane, the former Mr. Universe, agreed with O'Hearn on this point.
ADVERTISEMENT
Article continues below this ad
What are your thoughts on Zane's latest post on trying things out? Let us know in the comments.
Watch This Story: 81-yo-legend Frank Zane offers a simple life advice for success something he followed for 67 years