If you ever see a shy person wearing a hoodie asking you to show how to deadlift in the gym, then beware because he might be the new powerlifting sensation. Yes, he could be Vladimir Shmondenko, an elite bodybuilding and powerlifting athlete and expert at entertaining fans with his unassuming alter ego of a janitor, or just a novice bodybuilder. The Ukrainian social media star, who practiced his exercise with minimal equipment in his village, has become an internet sensation. He always manages to stun confident weightlifters in the gym by lifting weights twice his size.
America's Favorite Video Today
This time, the powerlifter again pranked a couple of weightlifters and bodybuilders in the gym, causing them to lose their calm over the exciting outcome. In the new Instagram video, some bodybuilders were left shocked when they went to teach a disguised Shmondenko how to deadlift.
Vladimir Shmondenko asks for help with a deadlift but leaves experts shocked
ADVERTISEMENT
Article continues below this ad
In the video, the elite powerlifter is wearing a hoodie and has his headphones around his neck. He looks like a skinny and timid college goer with this get-up and puts another plate into his deadlift bar. After doing that, he calls the nearby bodybuilders and asks for help. Shmondenko apologizes to them and says, "I am sorry guys, can you help me because I kept the bar here for deadlifts, but I don't know the technique." The bodybuilders are helpful and immediately come forward to assist him. Mr. Anatoly continues, "In my game, I am a soldier in Call of Duty; I want to be the same in real life."
The gymgoers are so helpful that they even ask him if he is confident enough and say, "Are you sure because it's too heavy." The Master of Sports of International Class replies, "I am sure."
118.6k readers Last 30 min
As soon as the jacked Hulk says this, he touches the deadlift bar and lifts it as if it was made of foam while saying, "But it's not heavy!" The bodybuilders who tried to help him are stunned and do not know what they are doing there. The video does not end here because the 24-year-old 5'11" powerlifter, who has a personal record of lifting 639 lbs, then says that the bar might be fake.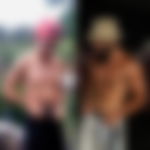 "That's What I Call Genetics": Fake Gym Cleaner Ruling the Internet With His
Hilarious Gym Pranks, Earns the Respect of the Fitness Community
Shmodenko says, "Maybe it's a fake bar; I don't know, but it's not heavy." He even apologizes while never shedding his guise and says, "I am sorry, guys. I am sorry." He truly proves that he is not only a soldier in Call of Duty but a monster in real life. However, he does not always apologize to the gym bros, and at times, he even breaks their egos.
ADVERTISEMENT
Article continues below this ad
Vladimir Shmodenko puts some egos to rest
In the previous Instagram video, the powerlifter and YouTuber spotted two men squatting with heavy weights. One man was shaking under the pressure when he came in and asked, "Can I do it with you?" One powerlifter did not miss a beat before making fun of his legs, saying, "You? Look at his legs, and then look at your legs." Maybe this was out of concern, but it was a snarky comment. 
Providing feedback will help us make your experience better.
Enjoyed Your Read? Let us know how likely you are to recommend EssentiallySports to your friends!
The Ukrainian powerlifter was as humble as ever and answered politely, "Yes, I want to try." And then he spoke with his actions, picked up the deadlift, and did perfect squats while talking to them. Both men were left awestruck and with shattered egos. This young powerlifter has an interesting way of entertaining his 2.59 million subscribers on YouTube. The powerlifter with 8.3 million followers on Instagram always finds new ways to prank gymgoers and leave the bodybuilding world shocked.
ADVERTISEMENT
Article continues below this ad
Watch This Story: "What a Freak": 52-Yo IFBB Pro's resurfaced picture drops jaws in the bodybuilding world.
What do you think of his fun pranks? What would you do if you met him in the gym? Tell us your thoughts in the comments below.