The Cold Plunge challenge has been a trend on social media, with over 500 million views on TikTok. The method is known for its healing benefits, and many fitness influencers, celebrities, and bodybuilders have tried the popular fitness challenge. Rich Gaspari recently did a 5-minute cold plunge and detailed the advantages. 
America's Favorite Video Today
It is not unknown that bodybuilding rituals involve intense training sessions at the gym, which can cause muscle soreness, and research suggests cold plunges can help in post-exercise recovery. So, the 60-year-old bodybuilder who still trains tried the relaxing activity. 
Rich Gaspari once again tries the famous TikTok fitness challenge
ADVERTISEMENT
Article continues below this ad
The Dragon Slayer made his mark in the bodybuilding arena with his ripped physique. He stood second to Lee Haney on the Mr. Olympia stage multiple times, and his contributions to the sport fetched him Hall of Fame induction. Even after retiring from the competitive stage, the 60-year-old bodybuilding icon continues to train. 
On Instagram, Gaspari advocates various training rituals he practices, and the latest post has been about the popular Cold Plunge. The Hall of Famer recently did a 5-minute cold plunge. It was his first time after a three-week break from cold therapy. "I'm doing this every week and it's getting much easier. Right now it's been four minutes and it's really, really hard," Gaspari said while being immersed in the cold water up to his neck. 
40.5k readers Last 30 min
"Now people think I'm crazy doing this but the benefits far out way the discomfort for the 5 minutes doing it. The water was 42 degrees which was extremely cold," the bodybuilding icon wrote in the caption. Inflammation reduction, the release of brown fat, a decrease in anxiety, and increased relaxation are some of the advantages Gaspari listed in his post. "I'll definitely be doing more Cold Plunges," he asserted. However, the iconic bodybuilder's first experience with the challenge wasn't that great.
Watch this story | From Lou Ferrigno to Jay Cutler, here are the retired bodybuilders who are still ripped.
The Dragon Slayer's first Cold Plunge experience 
ADVERTISEMENT
Article continues below this ad
Hollywood fitness enthusiast Mark Wahlberg and 7x Mr. Olympia champion Phil Heath aced the cold plunge trend earlier. Despite initial nervousness, Heath took up the challenge and was amazed by its effects. Gaspari also took up the challenge, but his first experience was almost a disaster.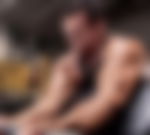 Providing feedback will help us make your experience better.
Enjoyed Your Read? Let us know how likely you are to recommend EssentiallySports to your friends!
Sharing his experience on social media, the bodybuilder wrote, "When you first get your body totally in the water, you feel like you can't breathe." Pinpointing the exact feeling, he wrote, "Your skin actually burns with pins and needles."
ADVERTISEMENT
Article continues below this ad
The Cold Plunge is endorsed by many fitness enthusiasts online, including Phil Heath. Rich Gaspari has also joined the list of its admirers, due to its numerous benefits. Have you ever tried the popular trend? If yes, let us know how your experience was in the comments below!