Victor Martinez is a bodybuilding icon who does not shy away from speaking the truth. Known as the 'Dominican Dominator,' he advocates for various topics, such as autism awareness and fitness. The second Dominican to achieve the IFBB Pro card often comes into Generation Iron podcasts and discusses essential aspects of steroids and nutrition. The Arnold Classic winner not only talks about steroids but also about foods that might be harmful to the body if consumed in excess amounts.
America's Favorite Video Today
In the recent Generation Iron episode, Martinez and Vlad Yudin discussed the 182-billion-dollar company and its bad food taste, along with its harmful long-term effects.
Victor Martinez slams McDonald's for its bland food
ADVERTISEMENT
Article continues below this ad
Martinez, along with Ehsan Farahi, Edwin Mejia Jr., and Vlad Yudin, discussed the impact of steroids on mental health, high-rep workouts, as well as the dangers behind certain steroids like Nilevar and Pronabol, and other topics. They started talking about Akim Williams, who was there in a previous episode of the same podcast. According to Yudin, he ate McDonald's every day for a whole year.
While talking about McDonald's, Martinez recalled Dave Palumbo, who was the biggest promoter for the brand. Yudin asked Martinez whether he liked McDonald's, and the IFBB pro instantly had a disapproving face. He was not an avid fan of the fast-food brand, and he recalled that even as a kid when he could not afford fast food, he never craved the taste of a McDonald's burger or fries. Martinez also stated a strange thing that happened with the fast food and said, "I think I hate it once it cools down; it is the worst. You can't reheat it; yeah, unheatable, you know."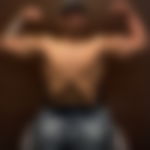 Bodybuilder in Wheelchair Pays the Ultimate Respect to His Coach, a Former
Arnold Classic Winner: "You Make Me Stronger Everyday
The bodybuilding pro also stated that his daughters like the food and said, "My daughters eat McDonald's; I eat the fries; I eat the burgers; you know again, it's for caloric intake." Lastly, he added, "I don't think it's any good for you that much!" Akim Williams had taken the challenge to eat from the fast food company for one year to bulk up massively while saving money. However, even he abandoned the diet because it was not ideal for long-term cardiovascular health. So Akim and Martinez seem to be on the same page about the health risks involved with fast food. Martinez also stated earlier that, rather than focusing on steroids, he spends more money on proper diets.
ADVERTISEMENT
Article continues below this ad
Victor Martinez shares the whopping costs of steroids
Previously, the retired IFBB pro revealed that PED-related costs can range from $5000 to a staggering $15000, and it depends on the budget of the athlete and their workout regimen. Thus, these results ignite debate about practical choices and the wisdom of spending such money.
Martinez also shared that he spends $500–$800 per week on food. According to him, food intake is more crucial than ruining the body with expensive steroids. Even fans came into the comments to express their concerns about PEDs. Fans pointed out that diet and hard work were better than injecting steroids into the body.
ADVERTISEMENT
Article continues below this ad
Watch This Story: 8X Mr. Olympia Ronnie Coleman Disclosed the Amount of Money He spent on Bodybuilding Competitions During His Career
In light of the discussion over fast food, Martinez emphasized that for calorie intake, it was fine but not for the long run. What is your opinion on his ideas? Tell us in the comments.
Providing feedback will help us make your experience better.
Enjoyed Your Read? Let us know how likely you are to recommend EssentiallySports to your friends!