Vladimir Shmondenko is one of the most notable power lifters in the fitness and bodybuilding world. He has taken the internet by storm with his rugged body and hilarious nature. This 24-year-old Ukrainian weightlifter knows the art of making people laugh with his funny and extremely amusing personality. 
America's Favorite Video Today
These days, he is becoming more prominent on the internet because of his prank videos on Instagram and YouTube. His recent 'gym cleaner' prank has become worthy of his fans' reactions. He dresses up like a cleaner and leaves gymgoers astonished by his athletic prowess. Having seen his unparalleled weight-lifting skills as a cleaner in the gym, fans approve of his humorous actions.
Vladimir Shmondenko continues his gym cleaner pranks 
ADVERTISEMENT
Article continues below this ad
In a recent Instagram post, Vladimir Shmondenko pretends to be a gym cleaner and while vacuuming the floor in the gym, he leaves everyone amazed with his incomparable ability to lift weights and use dumbbells. This video is gaining immense fame on the internet. 
During the cleaning process, he seems quite jocular and doesn't hesitate to interrupt people who are busy with their workouts. In the video, one can clearly understand the fact that people who were interrupted by him were a bit annoyed with his behavior. However, they soon burst out into laughter after finding his actions entertaining. Mr. Anatoly has a history of shattering the egos and attitudes of many. 
39.7k readers Last 30 min
In this video, Vladimir Shmondenko is seen mopping the floor and in the meantime, he seems to be amazed with all the muscular bodies working out there. He went to the powerlifters and asked them if he could try lifting the weights they were using. Soon afterward, he can be seen enjoying the bench press and claiming that they were like pushups. He also went on to say that he was doing this because it was his last day as a cleaner at that gym.
Shmondenko's playful behavior once again got his fans delighted. 
Vladimir Shmondenko's prank makes the fans go wild 
ADVERTISEMENT
Article continues below this ad
Commenting on the video, one fan said, "You're the best cleaner in the world." However, the fans' reactions didn't stop there. "Perfect example of DON,T JUDGE A BOOKS BY IT,S COVER", said another social media user. Backing Vladimir and showing the mirror to his mockers, one said, "It's life push ups That expression on those guys face.. clueless." On the other hand, considering the confused state of those exercising, one user commented, "Can I clean here …nightmare for gym guys."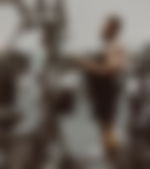 "Leg Growing Out of Your Shoulder": Amidst Raging Speculation of Open Show
Participation Next Year, Chris Bumstead's Jacked Physique Breaks the Internet
Providing feedback will help us make your experience better.
Enjoyed Your Read? Let us know how likely you are to recommend EssentiallySports to your friends!
One of the Instagram users even invited him to his own gym by saying "Can you come to clean my gym one day??" One user, however, suggested that he come up with new content as the gym cleaner had grown a bit old, "Bro COME UP WITH NEW IDEAS and DIFFERENT CONTENT. The cleaning guy was great, but now it's the same stuff over and over again." Vladimir Shmondenko continues to bring infinite entertainment and laughter to his fans and fitness enthusiasts alike.
ADVERTISEMENT
Article continues below this ad
Have you ever witnessed a gym cleaner who becomes the reason for your amusement? Let us know in the comments below.
Watch This Story: "What a Freak": 52-Yo IFBB Pro's resurfaced picture drops jaws in the bodybuilding world.