The realm of strength sports lately buzzed with excitement when former World's Strongman shared a video that shattered traditional notions about grip strength. At 6'8″ and 450 lbs, Brian Shaw is no stranger in the bodybuilding and strongman world to lifting jaw-dropping weights. But this time, it was his Instagram video that left everyone in amazement. He took weightlifting to an all-new level.
America's Favorite Video Today
In the viral video, Brian Shaw effortlessly lifts two weighted plates, one weighing 50 lbs and the other 55 lbs, using just his fingers. Far from any regular plates, these are "vintage" Jack Lalanne plates, renowned for their uniqueness and difference in hubs. In the caption, Shaw emphasized the fun he had with these plates in the gym, calling it "GRIP STRENGTH 💪."
The strongman with massive grip strength
ADVERTISEMENT
Article continues below this ad
Grip strength is sometimes underestimated in exercise and can be overlooked by the more glamorous achievements of lifting large barbells or dumbbells. But it is essential for both lifting and daily duties. In the post's caption, Shaw wrote, "Messing around with these awesome vintage Jack Lalanne 50 LB plates. Very unique and awesome."
Shaw's recent video is an incredible testament to the possibilities of what one may accomplish with extraordinary grip strength. These Jack Lalanne plates are not only hefty, but their design makes them tough to handle, adding another level of difficulty to the feat. Nonetheless, Shaw made it look like a child's play, forcing us to reevaluate the boundaries of human strength.
Interestingly, this isn't Shaw's first attempt at showcasing extraordinary strength. As a four-time World's Strongest Man champion, he has been pushing boundaries for years, even after his retirement. However, this video brings a new dimension into the limelight, as he masters a skill most would consider 'niche' and turns it into a spectacle.
ADVERTISEMENT
Article continues below this ad
Fan reactions leave no doubt about Shaw's capabilities
When you pull off something as extraordinary as Shaw did, you better expect the internet to lose its collective mind. One fan summed up Shaw's awe-inducing abilities by saying, "He was made in a lab from Sasquatch and Grizzly DNA". This exaggerated but appreciative comment captures the almost otherworldly nature of Shaw's prowess. Other fans were equally impressed but expressed their astonishment in simpler terms: "Bro is not struggling at all," "Like lifting a paper plate," "Man he makes that look like they weigh 45 ounces lol," and "What a beast lifting that with bare fingers."
Providing feedback will help us make your experience better.
Enjoyed Your Read? Let us know how likely you are to recommend EssentiallySports to your friends!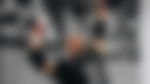 "Eating at Least Five to Six Pounds of Meat": Strongman Brian Shaw Eats $60,000
Worth Food Annually
ADVERTISEMENT
Article continues below this ad
These reactions only confirm the indisputable fact that Brian Shaw is not just an athlete. Rather, he's a person who continues to redefine the boundaries of physical capability. Whether it's his four World's Strongest Man titles or this gripping new feat, Shaw continues to show the world that when it comes to strength, perhaps we've only just scratched the surface.
Watch this story: Bodybuilding beast agrees to eat like strongman for 50k