Bodybuilding GOAT Ronnie Coleman has been in the industry for over three decades now. To achieve a physique that led him to win 8 consecutive Mr. Olympia titles takes a lot of hard work and consistency. Being in the sports community for so long, he has come across many techniques and methods to build a gigantic body. The Louisiana native has been sharing these insights with his followers on social media.
America's Favorite Video Today
However, recently he uploaded a video to his YouTube channel where he reviewed other gym-goers weight lifting methods. His reaction was profoundly interesting to watch.
Ronnie Coleman predicted the gym-goer's poor techniques
ADVERTISEMENT
Article continues below this ad
The video featured a compilation of weightlifting and heavy squatting, which turned out to be dangerous. Because in the video, most of them were not following the proper technique and seemed to ignore safety precautions while attempting such a stunt.
Coleman watched and reacted to these individuals performing weightlifting, he expressed his concern over this."this is way way way way way too much weight. It's already coming off, so we already know what's going to happen. It's going to crush." The outcome of the video was just as he had predicted. The person in the video lost his balance because of the enormous weight of the barbell and all the weight plates started coming out of the barbell rapidly.
11.6k readers Last 30 min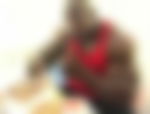 Despite Surviving on Dominos Pizzas Once, 305 Lbs Ronnie Coleman Had a Different
Favorite Meal During His Lightweight Days
ADVERTISEMENT
Article continues below this ad
The same thing happened with another person. He was so thin and lifted weights three/four times heavier than him. "can already tell you that's going to be too heavy for them bony leg there way too heavy yeah yeah didn't listen big mistake," said the former cop. In the series of Coleman's review videos, he once reviewed his own video when he visited South Korea during his peak.
Ronnie Coleman reminisces about his visit to South Korea
The King of bodybuilding is now enjoying his life after retirement. He's been reminiscing by watching one of his old videos. When he visited Korea, he had a lot of fans who got excited when they saw him. The crowd cheered for him in their native language. As Ronnie quoted while watching the video, "I had a lot of fun over there because they did have some real good food, real good gym, most importantly of all actually this is when I was still winning the Olympia."
ADVERTISEMENT
Article continues below this ad
He said in the video that many people were really surprised to see him in person, because of their Korean language he couldn't understand a single word they were saying but it thrilled him to see his fans and supporters from other countries as well. He jokingly said, "I just hope they won't say anything bad." Coleman was laughing while watching the video, as he wasn't able to understand anything they were saying. What do you think of the King's witty nature? Share your thoughts in the comments below.
Watch This Story: In a Wheelchair, 8x Mr. Olympia Ronnie Coleman Still Training 6 Days A Week Without Failure
Providing feedback will help us make your experience better.
Enjoyed Your Read? Let us know how likely you are to recommend EssentiallySports to your friends!