Derek Lunsford first appeared in the bodybuilding scene in 2015. After making a name for himself in the amateur circuit, Lunsford turned pro in 2017. While many talented bodybuilders often rise through the ranks rapidly, Lunsford gradually evolved into an elite bodybuilder. The 2022 Mr. Olympia runner had been an active kid and participated in competitive sports throughout high school. Lunsford's competitive spirit helped him constantly improve.
America's Favorite Video Today
After turning pro, the bodybuilder started competing on the Mr. Olympia stage, in the 212 lbs division. Lunsford stands 5'6" tall, and he was a natural fit for the 212 division. In 2017, Lunsford cracked the top 5 of the 212 lb division. In the following two years, he improved his placings, finishing as runner-up. However, after falling to 4th in 2020, Lunsford was triumphant in 2021. However, Lunsford's competitive spirit and faith were tested further in 2022.
Looking to become a two-division, Mr. Olympia
ADVERTISEMENT
Article continues below this ad
After winning the coveted Sandow and becoming the 212 Mr. Olympia, Derek Lunsford got a special invite to compete in the open category. The 29-year-old wasn't training to make his open bodybuilding debut when he received the invitation. When bodybuilding fans learned of the development, many counted him out, citing his height and weight disadvantage compared to mass monsters like Big Ramy.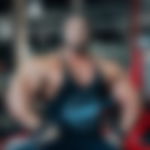 However, the 212 Mr. Olympia's competitive spirit kicked into overdrive. The Tampa Pro winner wanted to prove the naysayers wrong. Lunsford began his prep under the 'Pro Creator' Hamy Rambod's tutelage. In December 2022, Lunsford proved his point. With unwavering determination, Derek Lunsford locked out favorites like Nick Walker and mass monsters like Big Ramy, placing second to 2022 Mr. Olympia winner Hadi Choopan. This year, he was looking to earn the distinction of a two-division Mr. Olympia.
12.9k readers Last 30 min
Derek Lunsford is outspoken about his faith
While Lunsford had been competing since 2017, it wasn't until 2022 that the bodybuilder became outspoken about his faith. A proud Christian, Lunsford credits god for his success. The bodybuilding icon regularly posts about his religious beliefs and faith in god on social media. The former 212 champion follows pages like Living Christian, Jesus Calling, The Bible Team, and more.
Watch This Story | Despite Being Mr.Olympia 2022 Runner-Up, Derek Lunsford Spends Less Than $100 to Maintain His 22 Inch Monstrous Biceps
Lunsford also shared posts from these pages on his Instagram stories alongside the bodybuilding content. The 2022 runner-up also sports a cross necklace on nearly all his videos. Whether he is wearing a hoodie or a gym vest, the 29-year-old never takes off his cross in the gym. The bodybuilder has also explained how the strength of his beliefs has helped him succeed.
How it helps him strive for his 2023 Mr. Olympia goal
Besides sharing motivational messages related to god and faith and excerpts from the bible, Lunsford has explained how his beliefs have helped him succeed. In July, the bodybuilding icon appeared on coach Hany Rambod's The Truth Podcast. During the podcast, the 29-year-old champion said he approached achievement differently.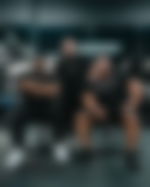 "These are all blessings. I don't feel like I earn anything," said the bodybuilder. "I feel like I do the work and God will bless me with what he wants to give me," Lunsford added. The 2022 runner-up said he talks about his "faith and relationship with Jesus Christ," on social media because Lunsford's faith is the "foundation" of his life. The 212 champion also revealed how he was in a "dark place" when he slid down the Olympia lacings in 2020. While his self-belief helped him overcome his mental barriers, the strength stemmed from his faith in god.
ADVERTISEMENT
Article continues below this ad
How have bodybuilding fans reacted?
During the podcast, Lunsford and Rambod also discussed how bodybuilding fans have reacted to Lunsford becoming outspoken about his beliefs on social media and sometimes during contests. The 29-year-old said he didn't expect fans to accept it without debate. While the bodybuilding star didn't think he would face negative comments, he also didn't expect people to not comment on it. Since Lunsford spoke about faith on social media later in his career, he expected fans to at least point out the change.
However, the bodybuilder was pleasantly surprised when bodybuilding fans embraced his chance. The Mr. Olympia runner-up mentioned how people visited him at the Evogen booth at the Arnold Classic and appreciated his devotion. "People were more like… Thank you for sharing your faith." The fans also surprised Lunsford during his guest posing sessions at the 2023 Pittsburg Pro. Lunsford said the crowd erupted in cheer when he said, "I want to thank my Lord and Savior Jesus Christ."
ADVERTISEMENT
Article continues below this ad
While the former 212 champion didn't always talk about his religious beliefs publicly, in recent times he hasn't held back. In fact, the modern-day bodybuilding icon has embraced his faith and used it to fuel his determination to prep for the 2023 Mr. Olympia. Fans have also shown their support. It remains to be seen if Derek Lunsford becomes a two-division champion. However, there is no doubt that faith has helped Lunsford become one of the best bodybuilders currently competing. 
Providing feedback will help us make your experience better.
Enjoyed Your Read? Let us know how likely you are to recommend EssentiallySports to your friends!