There have been many unforgettable and iconic moments in the bodybuilding world. However, only a few of them, remain etched in people's minds. One such iconic moment is the 2004 Mr. Olympia showdown between Jay Cutler, Ronnie Coleman, and Günter Schlierkamp. The results of the show have always been a hot topic since then. The four-time Mr. Olympia winner shared this iconic clip recently on his YouTube channel. 
America's Favorite Video Today
Even now fans went gaga over the video after almost 20 years of it happening. The three veteran bodybuilders looked as dashing as ever and fans could not control their excitement in the comments.
Jay Cutler gives a shout-out to his rivals
ADVERTISEMENT
Article continues below this ad
The 49-year-old CEO of Cutler Nutrition and a former Olympia remembered the iconic performance in 2004 and shared the clip on YouTube. Marking it as "bodybuilder posedown," Cutler is seen with two other iconic bodybuilders Coleman and Gunter. 
The video was interesting to watch because the interaction between the three showed both the rivalry but also the camaraderie. When the 8 time-Mr. Olympia winner and Mr. Universe winner came onto the stage, and prepared to take off their shorts to show their chiseled muscles, Jay Cutler, suddenly barged in between them, lightly pushed them with his hand to stand in the middle, and showcased his herculean body.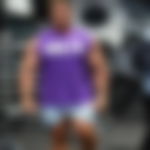 Despite Crushing "Fit for 50" Challenge Recently, Jay Cutler Reveals How Age
Plays a Major Role in Building Bodybuilders' Perceptions
The other two legendary bodybuilders did not stop at this, and they too opened their shirts and lifted their shorts to show their powerful biceps and quads. Cutler also did not give up and started comparing his own massive quads to the King's. On the other hand, the 300 lbs German athlete also displayed his amazing muscles while towering over both the bodybuilders. Additionally, the fans came into the comments and debated their own favorite bodybuilders while complimenting their prowess. Many fans claimed that Gunter was underrated, and deserved recognition. While others were gushing about Jay Cutler and his quads along with Ronnie Coleman's immense presence on stage with his muscles. 
ADVERTISEMENT
Article continues below this ad
Fans take the front seat to talk about their faves in the showdown
Within a few days, the post gathered almost 900 likes and several views on YouTube. One fan was so surprised to see Cutler's abs that they thought he might have more than six. They commented, "Jay you have 7 abs?" Another fan hilariously commented on the Comeback Kid's behavior and imagined dialogue where he said, "Jay's like out my way." 
Providing feedback will help us make your experience better.
Enjoyed Your Read? Let us know how likely you are to recommend EssentiallySports to your friends!
One bodybuilding enthusiast dissected the reason behind Cutler's great abs and said, "Jay's abs were always on point. Structurally wider waist but never any distention. He had great control of his midsection on stage." Another fan also imagined the dialogue between the three bodybuilders and they wrote, "Jay before pose down: Yo Ron, okay if I give you a little shove for the show? Ronnie: Yeah, Buddy!" One bodybuilding fan became nostalgic about the golden era, and said, " I honestly feel like every day since this era is just, not this good. This was the time!" 
ADVERTISEMENT
Article continues below this ad
From the golden era to the present era, both have something special for the bodybuilding world, but truly the bodybuilders of the golden era paved the way for the younger generation. Regardless of anyone's opinion, all the veteran bodybuilders continue to inspire and motivate the younger generations of the sport and will continue to do so for time immemorial. 
Watch This Story: Bodybuilding Legend Jay Cutler Opened Up About a Regretful Mistake He Made at 18 That Haunts Him To Date