The world of bodybuilding is no stranger to intense rivalries, dramatic turnarounds, and passionate debates. As the spotlight narrows down to the prestigious Mr. Olympia 2023, everyone is keenly waiting to see who wins the much-coveted title.
America's Favorite Video Today
Recently, bodybuilding fans witnessed a fascinating debate ignited by a YouTube video from IFBB pro Coach, Greg Doucette. The seasoned coach delved into his bold predictions for the 2023 Mr. Olympia championship, raising eyebrows among enthusiasts and experts alike.
Greg Doucette and his prediction
ADVERTISEMENT
Article continues below this ad
While Hadi Choopan, fondly known as the 'Persian Wolf', emerged as the reigning champion last year, Coach Doucette seems less optimistic about his prospects this year. "But what about Hadi Choopan? He won last year, he literally beat Derek," Doucette delved into a much-asked question. True, Choopan's victory was monumental, especially when considering his journey from the 212 to the open class category.
But as Coach Doucette points out, "Hadi is at his best. He has peaked he can't continue to get better." In the ever-evolving world of bodybuilding, it's a challenge to remain at the pinnacle for extended periods. While Choopan's victory last year was indeed commendable, nailing the perfect physique consistently is no easy feat.
125.6k readers Last 30 min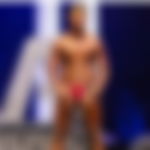 "What Is Wrong With Today's Society": IFBB Pro Coach Disgusted by Influencer's
Unserious Approach to a Bodybuilding Contest
As Coach Doucette sheds light on Hadi's journey, it becomes evident that the 'Persian Wolf' has consistently competed in the open class category, often with impressive outcomes. His switch from the 212 and his ensuing success in the open class portray a narrative of tenacity. However, the narrow margin by which he managed to surpass Derek Lunsford last year is a testament to the stiff competition in the arena. Bridging the narrative, it's also important to talk about how Lunsford's prospects are.
Doucette talks about Derek Lunsford's ambitions
ADVERTISEMENT
Article continues below this ad
Doucette's perspective brings forth a candid reflection on the dynamics of the sport. Every competitor, at some juncture in their career, hits a peak, after which sustaining or even bettering one's performance becomes a herculean task. Choopan, in Doucette's view, has already showcased his best. To expect a continuous surge in performance might be an overreach.
Providing feedback will help us make your experience better.
Enjoyed Your Read? Let us know how likely you are to recommend EssentiallySports to your friends!
As Coach Doucette highlights, Lunsford's eyes have always been set on the coveted Mr. Olympia title. The sheer dedication is evident in Lunsford's decision to abstain from the Arnold Classic, potentially foregoing a prize of $300,000. As Doucette underscores, "Derek Lunsford gave up $300,000, which I believe he would have won." His laser-focused ambition is clear: "I want the Olympia title. That is what I want, that is what I'm going for. Nothing else matters to me."
ADVERTISEMENT
Article continues below this ad
Watch this story: IFBB Pro Coach And World-Record Powerlifter Brutally Calls Out Famous Fitness Influencer On Not Being 'Natty'
While the 'Persian Wolf' undeniably brought his A-game last year, the world of bodybuilding is fraught with unpredictability. Coach Greg Doucette's predictions might be bold, but they also carry the weight of his experience and keen observation. Only time will tell if Derek Lunsford will claim the title or if Hadi Choopan will once again prove his mettle. Until then, the anticipation continues to build, keeping enthusiasts on the edge of their seats. Who will win this time? Let us know in the comment.