Bodybuilding is appreciated worldwide because of the athlete's zeal and their adherence to accomplishing their goals wholeheartedly. However, they have to go through intense training and essential dietary plans they have to follow to compete. Despite their hard work and sacrifices, one controversial accusation of them, using steroids or muscle-enhancing drugs, never truly left the surface. However, renowned bodybuilder and fitness influencer Mike O'Hearn is still in the distrust of using these drugs.
America's Favorite Video Today
The founder of Natty, or Nat, Kenny KO, took an interview with a young bodybuilder backstage. During this quick interview, the bodybuilder fiercely shared his views on using PEDs in the bodybuilding community. He also admitted that he also used these supplements.
Suspicion over Mike O'Hearn's super-jacked physique
ADVERTISEMENT
Article continues below this ad
The short video was uploaded to Kenny Ko's YouTube channel. Nonetheless, the young bodybuilder sarcastically opines upon the 54-year-old ageless icon's usage of supplements. However, the bodybuilder's revelation on his own usage, he said, "I'm black. I'm sorry. So, I'm 100% not natural," he continued, "We just naturally have higher testosterone levels. Like I have friends that have 1000 testosterone. And I'm gonna be honest, two years ago when I was natural, I was 405lbs. I started going on gear." He has a few friends who naturally have a testosterone level of 1000 Ng/dl. He further revealed that after starting gear, he only improved by one rank compared to when he was natural.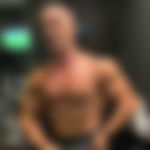 "That's What Broccoli and Chicken Gets You": IFBB Pro's Subtle Dig at 54 YO
Bodybuilding Titan Leaves Fitness World Hollering
ADVERTISEMENT
Article continues below this ad
Kenny asked another question whether Mike O'Hearn is natural or not. In response to that, he opened up and with a chuckle said, "If he's natural, I'm white." In addition to summoning O'Hearn, his words also underscored the pervasive use of anabolic steroids in the history of fitness and bodybuilding. The allegations of using drugs didn't stop there. The IFBB pro coach and YouTuber Greg Doucette also suspected O'Hearn that he's been using such kinds of PEDs to gain his muscles.
Doucette raised an eye upon O'Hearn's magical muscle gain in just a few weeks
Doucette made a video and mentioned "Michael Hearn, currently At 290 pounds and he's trying to get shredded trying to cut down to 271 pounds and so he has to do cardio to diet down for the next 13 weeks". He further said that he felt like it was a couple of weeks ago, perhaps a month and a half when former Mr. Universe was literally on a diet doing cardio exercise.
141.7k readers Last 30 min
Providing feedback will help us make your experience better.
Enjoyed Your Read? Let us know how likely you are to recommend EssentiallySports to your friends!
ADVERTISEMENT
Article continues below this ad
O'Hearn's experiences show that it plays a crucial role in achieving his desired physique. Contrary to common belief, bulking doesn't solely involve gaining muscle–it can lead to excessive weight gain, which in O'Hearn's case resulted in reaching 290 pounds.
Watch This Story: Bodybuilding Titan Mike O'Hearn's "Cardio" 365-Day Cut Severely Questioned by IFBB Pro Coach Greg Doucette