In the vast landscape of the YouTube bodybuilding and fitness community, rarely does a name emerge with such speed and intensity as Sam Sulek. Recently, renowned bodybuilder and fitness guide Jeff Cavaliere likened Sulek to Brock Lesnar—a comparison that signifies the unmatched prowess and distinctiveness of the young athlete.
America's Favorite Video Today
"He's a one-of-one; he's a Brock Lesnar of bodybuilding," Cavaliere says in his video commentary. Much like how many could imitate the celebrated wrestler Brock Lesnar but never truly embody his essence, Sulek stands out as a singular figure in the realm of bodybuilding. This uniqueness goes beyond mere physical prowess; it's about the indefinable quality that elevates athletes like Michael Jordan and LeBron James to legendary status.
An unconventional approach to bodybuilding
ADVERTISEMENT
Article continues below this ad
Indeed, at the young age of 21, Sulek's journey is nothing short of phenomenal. Despite his roots in swimming or perhaps diving, his transition to bodybuilding has showcased a remarkable talent. It has also influenced a lot of people.
However, his approach to training is what intrigues many, including Cavaliere. While many adhere to structured routines, Sulek has displayed an uncanny ability to train intuitively, responding to his body's cues and requirements. One might witness him doing a set of leg extensions, pausing mid-way, switching to another exercise, and then reverting—all based on what feels right at that very moment.
"It Was Just Three Eggs": 21-Year-Old Jacked Fitness Sensation Reveals the Right
Amount of Protein You Need in a Day
Cavaliere observes, "The gift he has is his lack of plan, which actually stems from an innate gift to understand exactly what his body needs at any given moment." Sulek's training isn't about strict schedules; it's about being in tune with his body. And if certain short-range repetitions resonate with him, it's because his body best responds to them. Cavaliere was also concerned for Sulek, on the other hand.
Cavaliere's genuine concerns for Sam Sulek
ADVERTISEMENT
Article continues below this ad
However, the meteoric rise and impactful presence of influencers like Sulek come with significant responsibilities. His influence, especially among the younger generation, is palpable. Many kids and teenagers avidly follow his videos, drawing inspiration from and possibly imitating his practices.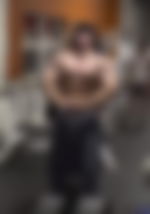 Providing feedback will help us make your experience better.
Enjoyed Your Read? Let us know how likely you are to recommend EssentiallySports to your friends!
This immense influence, although commendable, is where Cavaliere's worries stem from. Cavaliere's concerns are not unfounded. Reaching the top in the fitness world can be risky. Cavaliere poignantly states, "If he were my son, I would be terrified every single day."
ADVERTISEMENT
Article continues below this ad
Watch this story: 441 Lbs Strongman Giant Brian Shaw Could "Smoke Everybody" In A Jiu-Jitsu Match, Joe Rogan Once Said
It's the trepidation of seeing a young, blazing star potentially succumb to the pitfalls of fame and the pressures of the fitness industry. While Cavaliere holds no intention to discredit Sulek's achievements, his apprehensions arise from a genuine place of care. He, like many others, would love to see Sulek flourish for decades, but there's a lurking fear that the opposite might ensue.