Bodybuilder and fitness influencer who went viral for his bizarre remedies to get a healthier lifestyle. The social media sensation has millions of followers on the internet. However, he recently confessed about how muscle-enhancing supplements and intense training cause life-threatening situations. Kali Muscle recently revealed his past life experiences.
America's Favorite Video Today
Muscle in his recent YouTube video stated a fact about his life and the bad habits he was following that poorly impacted his health. He shared his experience with his watermelon fast. The reason behind something weird like this was his 2 years ago heart attack.
Kali Muscle's revelation of terrible addiction!
ADVERTISEMENT
Article continues below this ad
He said in his latest video, "I had a heart attack first in November 2021, so I had to put everything into perspective." After having a heart attack two years ago, he decided to change his life for good. Since then, he has tried different approaches to a healthy lifestyle.
He further said, "I had to get rid of addictions. I don't need it. Steroid addiction bad carbs white rice was my go-to," he continued. "I had cut back my weight. I was only wearing 220 pounds." Muscle shared his life on social media, where he mentioned his addiction to those things that were unhealthy and drastically affected his health. His steroid use and poor choice of food led him to the hospital. Moreover, in the video, he explained why he was eating some harmful food.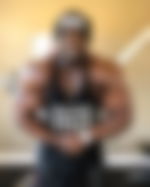 "I Was Addicted to Them": Days After His Watermelon-Only Diet Left Him
Unconscious, Bodybuilder Recalled Craving for This Sweet Item All the Time
ADVERTISEMENT
Article continues below this ad
In addition, he quoted that he was in jail "So you figure prison time eating Top Ramen for 11 years of my life terrible the worst foods man can eat for 11 years so all my years of life I've been eating food to clog me up". Kali confessed to consuming unhealthy food for around 11 years. Throughout his imprisonment, he sustained himself solely on noodles. Nevertheless, after a near-fatal encounter, he recognized the need to alter his dietary routine. He embarked on a journey to adopt a healthy lifestyle and reclaim his life.
The consequences of HIT and a bizarre fast
Providing feedback will help us make your experience better.
Enjoyed Your Read? Let us know how likely you are to recommend EssentiallySports to your friends!
Furthermore, he indicated that his rigorous training regimen played a part in his declining health. He watched a video online and saw a man who tried only watermelon fast. Then Muscle decided he was going to try this, and he did. However, during his fast on the 26th day, he fell unconscious. But he completed the 32-day challenge. He was in the gym when he fainted. Moreover, the 48-year-old bodybuilder is on the path to losing weight healthily.
ADVERTISEMENT
Article continues below this ad
Kali knows the risks of carrying a large frame and avoids it. Muscle shared that he had to prioritize dropping weight instead of building muscle. Muscle advocates for volume training instead of High-intensity training (H.I.T.) till failure. Do you agree with his confession that an HIT will cause some serious health issues? Let us know in the comments below.
Watch This Story: Arnold Schwarzenneger Thought His Bodybuilding Career Was Over After Winning 5 Mr. Olympia