Ronnie Coleman, a famous bodybuilder, won the Mr. Olympia title eight times in a row. His journey to success was tough, but he didn't quit. He had a lot of injuries when he was a bodybuilder and even after he stopped. He had 13 surgeries to fix his injuries.
America's Favorite Video Today
Coleman is in a wheelchair now because of one of his recent injuries. But, he still really loves bodybuilding. A YouTuber made a video where he tried to eat, like Ronnie Coleman, and talked about his past life as well.
Can you think of Ronnie Coleman arresting you?
ADVERTISEMENT
Article continues below this ad
Tennyson began his YouTube channel in 2015 to teach people about living healthily. He made videos about nutrition advice, fitness, and workout regimes. He kept making videos regularly, and they were fun to watch. That's why he now has more than 2.18 million subscribers. Recently he shared a video titled "I Tried Ronnie Coleman's 6,000 Calorie Bulking Diet". In this video, Will talks about the previous job of Ronnie Coleman as a police offers.
Will Tennyson said in his video, "Imagine him pulling up to arrest you how many of you guys would just cuff yourself, I would honestly just cuff myself if he pulled up on me. It's already me versus the food it's starting to look like it's like Homer Simpson roadkill the cheese is getting to me right now maybe he doesn't even like it either you know what I mean."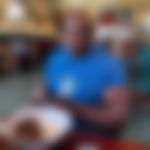 Bodybuilding GOAT Ronnie Coleman's "600g of Protein and 6000 Calorie" Diet
Intimidates Fitness YouTuber: "Could Feed a Full Kindergarten Class"
ADVERTISEMENT
Article continues below this ad
Ronnie Coleman's success in bodybuilding can be attributed to his exceptional genetics, tireless work ethic, and ability to consistently fuel his body. As Will mentions, "What makes a bodybuilder great is obviously genetics, work ethic and telling your stomach that no actually means yes, Ronnie Coleman's always been known to be able to push the food never miss a meal and when you're in the Pro levels like the Olympia level that makes all the difference from being a champion to a loser"
Death wish according to Tennyson
Talking about the food in his video Will's humorous statements, such as "chicken breast is going to be on the naughty list by Days end" and "beans pre-workout it's pretty it's kind of a Death Wish going to be turning the gym into a toxic Wasteland."
ADVERTISEMENT
Article continues below this ad
Ronnie Coleman, who won the Mr. Olympia title eight times, is remembered for his amazing body. His story inspires young bodybuilders. They want a body like his, all muscular and defined. To stay in such great shape, he ate a special diet with more than 6000 calories every day. Eating that much food in one day is not easy for most people. Do you think you can do that? Share your answers in the comments.
Watch this Story: Bodybuilding goat Ronnie Coleman shares his high quantity diet of 600gm protein and 6000 calorie
Providing feedback will help us make your experience better.
Enjoyed Your Read? Let us know how likely you are to recommend EssentiallySports to your friends!