Renowned bodybuilder and Hollywood actor Mike O'Hearn. He's been in the industry for over three decades now, started his career as a powerlifter turned to bodybuilding and afterward became an actor. Despite being in the industry for a very long time, and giving updates on his social media about his life. He still gets a lot of questions regarding his perfectly ripped physique.
America's Favorite Video Today
People often raise concerns that because of his genes and muscle-enhancing drugs, he was able to get this astonishing body. To answer this, he shared his view on the speculation of having perfect genetics that helped him grow his physicality and overall growth. However, he has a different opinion about this.
O'Hearn tried to debunk the myth about his physique
ADVERTISEMENT
Article continues below this ad
He revealed in a conversation with Vlad Yudin that a while back, in an interview with Kenny KO, the founder of Natty or Not, he kept stating "Well, you're genetically gifted." In response to this, he got a little annoyed with this idea and said that many professional bodybuilders and athletes have genetics advantages, but that's not the main point as he mentioned "When I pulled my girl over and he goes well she's holy you're talking about a girl with 11 testosterone who just had a kid that's more Jack than you it's like and Kenny's gassed out of his mind."
Former Mr. Universe emphasized that people can sometimes focus on genetics too much and the and taking supplements to achieve a desired physique in a short period. He stressed that the ultimate key to getting a shredded physique in longevity is proper training and a healthy diet. If someone is willing to gain faster results with muscle-enhancing drugs, "make sure it's extra on top of what you're doing and keeping a healthy lifestyle so you can do this for a lifetime." O'Hearn advised. While talking about food and health in one of his social media posts, he opines on stress and how to overcome it.
118.0k readers Last 30 min
Mike O'Hearn advised on how to deal with stress
ADVERTISEMENT
Article continues below this ad
Earlier, Mike shared some wise advice on his social media page. While talking about mental health and eating nonstop, he said that stress can cause a lot of harm to our health. Due to stress, a lot of people consume meals back to back. That causes more problems than saving from stress. His point of view on this brings a new and positive aspect. He said that there are multiple ways to deal with stress rather than binge eating.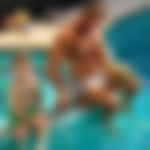 "Mike, Your Son Is Gonna Be a Beast": At Just 4 Years Old, Mike O'Hearn's Son
Titan Breaks the Internet With Shredded Abs
Providing feedback will help us make your experience better.
Enjoyed Your Read? Let us know how likely you are to recommend EssentiallySports to your friends!
O'Hearn said, "Powerlifting taught me that I don't have to eat in order to deal with stress. That's what the weights are for." This isn't just a statement. It's a philosophy. Through his story, he underscores the benefits of channeling stress through physical activity, particularly powerlifting.
ADVERTISEMENT
Article continues below this ad
When people are stressed, they try to eat a lot to overcome the problem, instead of that they gain weight. Eating nonstop also can impact their health, it can cause blood sugar and heart disease. So, removing stress from life, there's only one way to delve into physical activity. What's your take on Mike O'Hearn's point of view on these topics? Tell us in the comments below.
Watch This Story: Despite Lacking Genetics, 60 YO Veteran Bodybuilder Beat All Odds To Shut down His Haters And Win Championships