Ronnie Coleman's legacy is larger than life. The living legend has always astounded the world with his training and diet regimens. People look up to him in admiration to be like him one day. They follow everything the bodybuilder does, from his intense workouts to rich-calorie meals he used to eat to increase a few inches.
America's Favorite Video Today
However, when he was first told by his nutritionist that he needed to increase his food intake, he was shocked, according to him, he was eating enough. But 8x Mr. Olympia has given ear to his nutritionists and indulged himself in 6000 calorie intake per day. He struggles with his new routine.
YouTuber Will Tennyson tried Ronnie Coleman's hard-core diet
ADVERTISEMENT
Article continues below this ad
In recent times, a YouTuber and fitness influencer, Will Tennyson, tried Coleman's diet plan for a day. The King in a video which was shared by the Muscle Mass Media, said he was not comfortable initially with his diet. However, according to him, "it was so hard to eat that much food." As he was juggling his job with bodybuilding at the time, Coleman had to wake up in the middle of the night to complete his meal quota. This commitment and willpower toward his goals is what sets him apart from the rest.
Moving forward, the influencer's video title, "I Tried Ronnie Coleman's 6,000 Calorie Bulking Diet" captured the attention of over 600k fans. Tennyson decided to eat the same meals that Coleman had during his bulking phase. For breakfast, Tennyson started with a meal of egg whites, grits, and coffee. He noticed that Coleman added cheese seasoning to his egg whites for better taste, so Tennyson did something similar by putting cheese in his bowl of grits. He figured Coleman's choice of combining these dishes was a time-saving strategy for the meal. Tennyson quoted, "It's no surprise Ronnie Coleman's nickname is "The King,"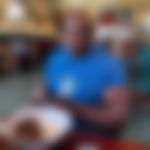 Bodybuilding GOAT Ronnie Coleman's "600g of Protein and 6000 Calorie" Diet
Intimidates Fitness YouTuber: "Could Feed a Full Kindergarten Class"
ADVERTISEMENT
Article continues below this ad
After preparing his first meal of the day before consuming it, he humorously said, "All I can say right now like this thing this could like feed a full kindergarten class, and honestly like this is probably as heavy as some people's deadlift attempts." In his second meal, Tennyson ate more protein than he usually does in a whole day. Since he wasn't used to having such a big meal before his intense push-day workout, he wasn't sure if his body had enough time to digest it. For his fourth meal, Tennyson had two types of protein and carbs. He suspected that Coleman might have had pink lemonade with this meal to make it easier to swallow the meat.
Even though Tennyson managed to eat 600 grams of protein and 6,000 calories in a single day, he admitted that he couldn't keep it up for weeks like Coleman did. Coleman's high-calorie diet not only helped him gain a lot of size but also gave him the energy to lift heavy weights, making him one of the strongest bodybuilders ever. Well, his amazing and heavy-eating attempt was appreciated by fans.
People were captivated by his attempt
One user wrote to Will's video post. "Ronnie is the goat not only for what he did as a bodybuilder but his ethics passion and drive are not matched………Dude was a monster. He held it up all together. No drama no problems." However, fans were more concerned if his okay after following the insane diet of a legendary bodybuilder.
ADVERTISEMENT
Article continues below this ad
The fan said,  "The effort you put into the videos is crazy",  Another fan was simply intrigued and said, " Bless sir Ronney, And you with good health thanks for the inspiration and insights on the road to fitness 💪 and the bodybuilding world." If ever get a chance would you like to try Ronnie Coleman's high-calorie and protein intake? Let us know in the comments below.
WATCH THIS STORY: Bodybuilding Veteran Credits The Two Old-School Legends for "The Art of Flexing"
Providing feedback will help us make your experience better.
Enjoyed Your Read? Let us know how likely you are to recommend EssentiallySports to your friends!