Arnold Schwarzenegger has made a different place for himself in the bodybuilding industry. He not only became a seven-time Mr. Olympia but branched out into Hollywood and became a blockbuster movie star. His story did not end there; he also managed to become the governor of California and a bestselling author. Now every other bodybuilder wants to be like him. 2018 was the year when George Gallo released a movie called 'Bigger'. The movie featured the lives of two brothers who created the destiny of many bodybuilders, among whom Arnie was also a legendary name. Calum Von Moger was the one who starred in the movie and played the role of the Austrian Oak.
America's Favorite Video Today
Recently, 23-year-old social media sensation and bodybuilder Alex Eubank showed his admiration for the 33-year-old actor, who had a controversial past. He posted a picture on Instagram talking about his idol.
Alex Eubank gushes over on-screen Arnold Schwarzenegger
ADVERTISEMENT
Article continues below this ad
The famous online influencer and bodybuilding icon, who has his share of controversies regarding PEDs, shared a picture with the 'Generation Icon 2' star and gave a heartfelt caption. Eubank talked about how he admired the onscreen Arnold Schwarzenegger and how he got Eubank into weightlifting.
The 23-year-old penned, "Got to meet my all-time favorite influencer who helped get me into lifting… crazy how things lined up the way they did (peep the last slide) #catchyalater." 
In one of the pictures that Eubank shared, there was a screenshot of his chat with Von Moger. He wrote to him: "Hey cal, awhile back when you were streaming God of war on twitch I was commenting some stuff about how I was getting picked on for working out. He added that he had a sort of full conversation, and that became the highlight of his life. Showing his enthusiasm and excitement, he further wrote, "you are my biggest inspiration man. God bless you bro, I hope one day I can meet you in person."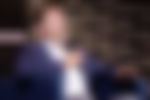 "There's Probably a Hell": Arnold Schwarzenegger, 76, Who Outwardly Denied
Existence of Heaven and Afterlife Makes a Surprising Confession
The 33-year-old bodybuilder is famous not only for his movie but also for his dark past. The Australian bodybuilder and actor, who faced an accident and was even in a coma, reiterated his dark past. Even though he had dangerous setbacks in his life, today he is an inspiration to many, like Eubank.
Calum Von Moger talks about his past
ADVERTISEMENT
Article continues below this ad
In a previous interview posted by coach Zack Telander, the on-screen Arnold Schwarzenegger spoke on the topic "What happened to Calum Von Moger?" The young actor and bodybuilding star spoke about some mistakes he made when he was 24. He said, "I came out to L.A. when I was 24… You know there's women, partying, drugs, all sorts of different things thrown in."
He also spoke about the change in mentality as one grows older and said, "You get the best when it gets tested; you know. So that party eventually ends. And when it does, it's reality. You're back in the real world". Von Moger, who fell from his second-story window in his home in Geelong, Melbourne, and faced a coma, also revealed his hardships while leaving Australia: "I came over to the USA with just a suitcase and a couple thousand bucks. I didn't know anyone or anything."
ADVERTISEMENT
Article continues below this ad
Watch This Story: "Surgery in less than 24 hours": Bodybuilding sensation and IFBB Pro reveals an upsetting health update
The man who never had proper mentorship but later got help from the Austrian Oak himself has many admirers like Eubank who look up to him. What do you think about his life story and collaboration with Eubank? Tell us in the comments below.
Providing feedback will help us make your experience better.
Enjoyed Your Read? Let us know how likely you are to recommend EssentiallySports to your friends!