At 54 Mike O'Hearn looks as young as a 30-year-old. The bodybuilding legend and social media sensation is always catching people's eyes with his training method, and youthful structure. However, even after so many years, there is one question that is asked to the Titan now and then, this is if he is a "natty" or not. This means whether his body is all-natural or he used PEDs to get the Herculean physique. Despite clearing the doubts and saying that he has attained the body with deep austerity towards his physique, this seems to be the belief among bodybuilding enthusiasts.
America's Favorite Video Today
O'Hearn recently came into his YouTube channel for the regular live interactions that he does and again cleared these doubts. While talking about how celebrities are not taking steroids to get muscles, he addressed his dilemma as well.
Mike O'Hearn talks about being all-natural
ADVERTISEMENT
Article continues below this ad
In the recent episode of 'Generation Iron and Barbend's The Mike O Hearn Show', the Titan was accompanied by Vlad Yudin, the director of Generation Iron. Together, they discussed the accusations of steroid use in Hollywood.
With actors like Hugh Jackman, Zac Efron, Chris Pratt, Ryan Gosling, and Ryan Reynolds, showcasing their unbelievable transformations on screen, many believe that they might have used steroids. Mike O'Hearn thinks that this is not true. Mike O'Hearn himself has been a part of a lot of entertainment, shows like The Gladiator where every inch of the training is recorded. He was talking about the hard work and grind that he and his team had to go through during those times. Yudin asked him whether the bigger guys in the show were on steroids or not.
118.0k readers Last 30 min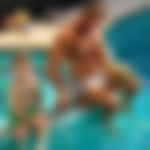 "Mike, Your Son Is Gonna Be a Beast": At Just 4 Years Old, Mike O'Hearn's Son
Titan Breaks the Internet With Shredded Abs
This is when O'Hearn had a statement ready for Yudin. He said, "When you guys did the 'self-proclaimed natty' we thought that was funny." He did not leave it at that and explain why he thought it was funny. He said, "Cause when you guys do your like one through thirty people, it said self-proclaimed natty. Because I competed in natural shows and to drug tests, and was natural. So it wasn't me saying it it was doing drug tests in the sense. It's not me going around saying this." So, according to the Titan, there were blood tests that were done on the shows, and could not be hidden from the audience, and those tests showed him to be a natural. From here, he also went to how the audience thinks that Hollywood celebrities are on steroids. O'Hearn was against this thought and said that people would do anything to get news. He had to clarify his natural status before as well.
Mike O'Hearn gets down to business 
ADVERTISEMENT
Article continues below this ad
When an interviewer asked him if he was on TRT O'Hearn answered by saying,  "What' would be the point though?" The interviewer did not seem to be satisfied with this answer and did not back off with his questions.
He said, "Because men's hormone levels dip as they get older". To this, the 54-year-old bodybuilder replied in a higher pitch. He said, "No, they don't. No, they don't. Because you guys say that. Let me show you a guy that is a 740 at 58 years old." 
Providing feedback will help us make your experience better.
Enjoyed Your Read? Let us know how likely you are to recommend EssentiallySports to your friends!
The interviewer was still adamant and getting a concrete answer out of the bodybuilder, and he asked, "But were you natural when you were in your teens? " To this, Mike had his answer ready, and he replied, "Well, how could I compete throughout my entire career doing drug tests and TV shows?"
ADVERTISEMENT
Article continues below this ad
Watch This Story:"My Own Family Told Me I Embarrassed Them": Bodybuilder Who Battled Addiction Feels Ironic After Unknowingly Saving Someone's Life
O'Hearn has hardly hidden anything from his fans in his illustrious career. He also reveals the secret to staying muscular and symmetrical even at 54. He said that the best way to remain healthy is to keep the joints healthy. Even though steroids are a common thing in the bodybuilding world, it does not mean every single bodybuilder uses them. What are your thoughts on the discussion that Vlad Yudin and Mike O'Hearn had? Let us know in the comments below.