Bodybuilding beast with 4 Mr. Olympia titles, Jay Cutler's been very open about his life. Precisely, he maintained his transparency till now. He openly talks about his steroid use. Earlier, in his recent podcast video, he shared a few things about his testosterone levels. During the conversation between him, Manager Matt, and Milos Sarcev. Cutler's podcast video, a professional bodybuilding coach and YouTuber made a review video. Greg Doucette is very popular for his unbiased and brutal statements.
America's Favorite Video Today
The IFBB pro coach and Guinness world record holder Greg Doucette comes up with another video, where he puts his thoughts on Jay Cutler's comment that using 1000 nanograms per deciliter is okay in males.
Greg Doucette on Jay Cutler's comment on normalizing 1000 Ng/dl in males
ADVERTISEMENT
Article continues below this ad
At the start of the video, Doucette quoted Cutler's statement "So Jay Cutler said is 300 nanograms per deciliter is okay for a male…." Further, the coach said "he said for male you'd need to be at least a thousand thousand plus and you know and Greg agrees with you like a thousand is a roundabout number"
To which the IFBB pro coach responded, honestly thousand Ng/dl is the maximum and he would not recommend it, "thousand in fact thousand is a very, very high level of testosterone very rare for someone to have a thousand nanograms per deciliter unless they're on performance-enhancing drugs," said Doucette.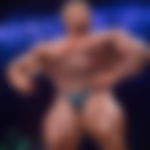 Bodybuilding Behemoth Renowned for His 'Quad Stomp', Disclosed the Bizarre
Reason Why His "Left Leg Is a Lot Stronger Than His Right"
ADVERTISEMENT
Article continues below this ad
He further said that even though his own blood reports showed that his hormone levels were around 800, to him 1000 is higher than what he would have expected. He said he recently went to test his blood, he will share the reports in the upcoming videos. While talking about testosterone levels in females, he actualizes that in women 300 is far too high.
Women should pay more attention to steroid use, says Greg
Perhaps if a woman is a bodybuilder and uses performance-enhancing drugs. Probably then, she could handle 300. But if you're at 300, you're certainly going to get virilization. He suggested that if a woman is around this testosterone level, she should pay attention to her fitness level, as it might be harmful to her health.
Providing feedback will help us make your experience better.
Enjoyed Your Read? Let us know how likely you are to recommend EssentiallySports to your friends!
ADVERTISEMENT
Article continues below this ad
Greg agreed with Cutler's statement when he said 800 would be acceptable, to which he replied," I 100% agree with Jay Cutler. He says seven to eight hundred nanograms per deciliter. That is where you want to be a thousand being stated as a high", Doucette praised bodybuilding beast for being transparent about his intakes of steroids and showing his blood reports. What do you think of both bodybuilding enthusiasts about testosterone? Let us know in the comments below.
Watch This Story: After IFBB Pro Coach Greg Doucette Gave His Two Cents On Jay Cutler's Fear of Testosterone, the Latter Responded To It On His Podcast