In a few days, bodybuilding's ultimate championship, the Mr. Olympia 2023, will take place. Despite many bodybuilders having withdrawn their names, the excitement of this competition is at its peak. The entire sports community is excited and eyeing who will win the coveted title this time. The top contenders have shown really great progress in time, and many legendary bodybuilders have openly chosen their top five.
America's Favorite Video Today
Recently, Olympia TV shared a video dedicated to the final prediction for the upcoming contest, featuring former bodybuilders like Flex Wheeler, Bob Chick, Chris Cormier, Shawn Ray, and the host of the show Terrick El Guindy. According to bodybuilding legends, they believe a new Mr. Olympia will emerge, but they all have different winners in their minds.
Legendary bodybuilders shared their predictions for Mr. O
ADVERTISEMENT
Article continues below this ad
Some of the legends have chosen Samson Dauda over the reigning champion Hadi Choopan, while a few of them beg to differ and picked Derek Lunsford instead. Some of them like Dauda's physique, but they think Lunsford, who has a great shape and a well-conditioned body, will win.
While talking about their conditioning, The Sultan Of Symmetry, Flex Wheeler said, "I just got to come out and say it Caucasian guys and the Middle Easterns have way better dryness than than the brothers do." They further went on to talk about other things that were distinct differences between the Nigerian lion and Lunsford. During the conversation, Chick also reminisced about Renel Janvier, and Wheeler agreed with how Janvier was a perfect example of a dark-skinned bodybuilder with exceptional conditioning.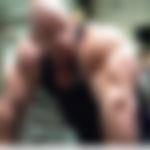 "Delts and Arms Bigger Than Everyone's Head": Just Like Last Year, Slovakian
Beast Lures Bodybuilding World With His Freak Factor
ADVERTISEMENT
Article continues below this ad
According to them, Dauda might have struggled to get his skin thin enough. They mention that dark-skinned bodybuilders often find it challenging to achieve extreme muscle separation and dryness. Earlier, Wheeler had ventured into the Mr. Olympia 212 division and mentioned who he saw as a challenger to Shaun Clarida.
Wheeler named a tough contender to Shaun Clarida
Predicting a tough fight at the coveted event, Flex Wheeler had delved into the 212 division, claiming that a 28-year-old bodybuilder had a great chance of defeating Shaun Clarida. Wheeler was talking about Keone Pearson, who first took part in NPC Lee Haney games and secured first place. After starting his training a year later, Pearson had gone on the become the NPC Junior USA champion, earning his Pro Card.
ADVERTISEMENT
Article continues below this ad
Wheeler also shared a post on his social media account and wrote, "@Keone_prodigy legitimate threat for the 2023 212 Mr. Olympia title." In a short span of time, Keone Pearson has made a name for himself in the bodybuilding world, implying that it won't just be the open division that has thrilling competition. Do you agree with the experts who claim that a new champion will emerge? Who do you think it would be? Share your predictions in the comments below.
WATCH THIS STORY: GOAT Ronnie Coleman Poses a Rhetorical Question to Bodybuilding Fans Ahead of Me. Olympia 2023
Providing feedback will help us make your experience better.
Enjoyed Your Read? Let us know how likely you are to recommend EssentiallySports to your friends!