Brian Johnson, better known as Liver King runs a company called Ancestral Supplements, and he talks a lot about the nine ancestral tenets of how ancestors lived. But, even though he's all about this way of life, his own life has had some problems. He's 45 years old and he tells people to live like the ancestors did. He even eats raw animal organs for protein. A lot of people like what he does, and they follow his workouts and routines. When he said he didn't use steroids and claimed to be natural, it caused a big commotion in the bodybuilding community. Some people believed him, but most others didn't.
America's Favorite Video Today
One of those fans was Joe Loney who trusted the social media influencer and believed that if he stuck to a primal diet and worked out then he could also attain the shredded physique like Liver King. Loney believed the social media influencer's words and started his daily routine but after the eye-opening confession made by the Liver King, Loney's dreams were shattered. 
Joe Loney sued Liver King
ADVERTISEMENT
Article continues below this ad
According to the Instagram post by Bloomberg Business, Joe Loney, who is a 35-year-old Briton believes that he could have the same jacked and shredded physique just by eating raw animal organs, and working out while living the ancestral lifestyle just like the Liver King had preached. Since the start of 2021, he began eating steak in an extremely rare way, almost like it was not cooked at all, and he took a break every two or three months.
In December, the Liver King made a YouTube video where he admitted to taking steroids worth $11,000 every month. This was a big surprise for the bodybuilding community. Loney, who was shocked by this, decided to take legal action against the bodybuilder. He filed a lawsuit for $25 million, accusing Johnson of using misleading advertising for his Ancestral Supplements business. The company was making nearly $100 million in sales each year.
151.3k readers Last 30 min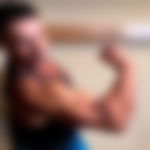 IFBB Pro Coach, Renowned for His Controversial Opinions, Agrees With Fitness
YouTuber for a Change: "Going to Get You Very Fat"
After being exposed and sued some months back, Liver King decided to go natural and confessed that he was not taking steroids anymore. Along with that he recently uploaded an Instagram post where he was showcasing his enormous wealth but also attempted to contrast it with the deeper meaning of self-worth. He started talking about his net worth which was a hoping $310,000,000 but contrasted it with his self-worth which was priceless and did not measure to financial units. However, the fans were not impressed and bashed him in the comments. Similarly in this Instagram post about the lawsuit, the fans seem to be fed up with the people who believed Johnsons' words and they had some interesting things to say in the comments.
ADVERTISEMENT
Article continues below this ad
Fans are fed up with the gullibility of Joe Loney
Most of the netizens commented on the Instagram post, not about the lies that the Liver King told but about the gullibility of a fan who believed them to be true. One fan sarcastically commented, "Basically, in the US you can sue someone because you're stupid? He deserved to be scammed for believing this sh*t lmao." Another follower of the page talked about Joe and his naïve nature and said, "You can't sue someone for your own stupidity, sorry."
Providing feedback will help us make your experience better.
Enjoyed Your Read? Let us know how likely you are to recommend EssentiallySports to your friends!
One follower harshly critiqued, "The person suing liver king should probably be sued for gullibility. :)."  A netizen said, " If you bought his products because you thought he was all-natural, and they would make you look like him, you're the one that needs to be sued." Finally, a netizen said in shock, "Lol, what a frivolous lawsuit. Do we sue the Kardashians for their bodies that they claim to be real?"
ADVERTISEMENT
Article continues below this ad
Do you think the fans are right in saying that Joe was gullible enough to believe the Liver King? Tell us in the comments below.
Watch This Story: 8x Mr. Olympia Ronnie Coleman Disclosed the Amount of Money He Spent on Bodybuilding Competitions During His Career