Chris Bumstead is passionately working out at the gym, getting ready to conquer the 2023 Mr. Olympia. He's exercising rigorously despite the health issues he's facing. There also continues to be rampant speculation about who would win or defeat him in the Classic Physique division he's been ruling for the last four seasons.
America's Favorite Video Today
The 28-year-old bodybuilder often shares his workouts and diets on YouTube and other social media platforms. He's been transparent about things like his health, diet, and use of steroids. Because of his transparency people around the globe admire him. Recently, CBum revealed something shocking about himself that created a stir in the fitness industry.
Chris Bumstead asks for help to cure his pain
ADVERTISEMENT
Article continues below this ad
In one of his videos, he confessed to having a kidney disease called IGA Nephropathy, commonly known as an autoimmune disease. His confession about this had many in bodybuilding talking, getting everyone concerned about his health, with rumors of his retirement also floating around.
But Bumstead went for stem cell therapy and has now started preparing for Mr. O. In one of his Instagram posts, he also revealed that he's been facing difficulties while working out. Recently, he uploaded a backday workout video with his former coach Iain Valliere on his YouTube channel, and admitted to a severe condition he's been going through, "if anyone has any tricks for debilitating headaches, please help I get horrible headaches all the time they're killing me."
241.3k readers Last 30 min
The reason behind his headache was undisclosed. The champion's words did cause chaos about whether he will compete this year. Regardless of this, Bumstead hasn't stopped and continues to train and build his physique for Mr. Olympia. The IFBB pro coach Greg Doucette also shared his opinion and favored him retiring soon.
Doucette is in favor of CBum's retirement!
ADVERTISEMENT
Article continues below this ad
In one of his videos. Doucette said, "Chris Bumstead has an autoimmune disease, which makes it even harder for him to compete and take the things he needs to take in order to win the title." The fitness coach added to his statement, "And so he has already won 4 Mr. Olympia titles. Does it really matter if he gets another one or another one after that? He is already going to be remembered as the greatest Classic Physique competitor of all time!" Doucette thus underlined the fact that the Canadian bodybuilder has always pushed hard himself to achieve great things in life.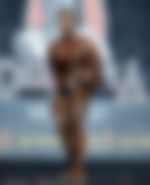 "Couldn't Breathe, Couldn't Sleep": Despite Living in Horrible Conditions,
Classic Legend Chris Bumstead Won His 4th Consecutive Mr. Olympia Last Year
Providing feedback will help us make your experience better.
Enjoyed Your Read? Let us know how likely you are to recommend EssentiallySports to your friends!
Even before the previous year's competition, Bumstead had faced a breathing problem due to mold growing on a ventilation system. He explained the impact of this mold extended far beyond its appearance. It affected his ability to breathe and sleep, two fundamental aspects of his rigorous training and preparation.
ADVERTISEMENT
Article continues below this ad
The question remains: Does he need to compete this year or should he focus on his health right now? Share your opinion in the comments below.
WATCH THIS STORY: 165 Lbs Rival of Chris Bumstead, Yet to win Mr. Olympia, Stuns fitness work With Shredded Physique