Bodybuilding legend Hadi Choopan, widely regarded as The Persian Wolf because of his exceptionally aesthetic physique, is undoubtedly regarded as one of the best bodybuilders in the realm of the sport. He is the reigning Mr. Olympia champion and has garnered a lot of attention after winning the title in the 2022 championship.
America's Favorite Video Today
With Mr. Olympia 2023 just two weeks away, all his fans and followers are rooting for him and promoting him on their own social media platforms. Well, his recent promotion was about a grand gesture made in the United States to honor him as the legend that he is.
Hadi Choopan's massive statue in the United States 
ADVERTISEMENT
Article continues below this ad
A bodybuilding fan page, called Nick's Strength and Power, recently took to their official YouTube channel and shared a video, explicitly giving out all the details about the honorary statue built on the legendary Persian Wolf. He began the video by stating how Hadi Choopan is undoubtedly one of the most respected Mr. Olympia champions in history.
Thus, the statue was built in his home country to show him respect, and its height to more than a two-story building. He said, "This is not just a life-size statue, like what we've seen of Arnold Schwarzenegger, this is as big as a house, as tall as a house." He goes on to say how it is beyond imagination to put in so much effort for an existing athlete.
Watch This Story: Secretive About His Training Regime, 93-Yo Hollywood Icon's Workout Regime Is No Less Than That of Bodybuilders
ADVERTISEMENT
Article continues below this ad
He added, "This is real respect, this is real bodybuilding fandom. You just don't see stuff like this in the United States, bodybuilders getting this kind of support. This amount of respect to have a local landmark built in their name is truly incredible." Well, the journey to the top was definitely not easy, and bagging the title of Mr. Olympia last year, all his hard work did indeed pay off.
Hadi Choopan achieving his dream after ordeals
The Iranian bodybuilder, after being declared the champion of the Mr. Olympia 2022 open division, and dethroning Big Ramy, clinched the title and posted a picture of himself with the trophy on his Instagram. The post was a standing testament to the happiness he had after defending the title for himself.
ADVERTISEMENT
Article continues below this ad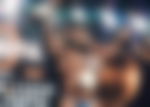 "Pretty Sure He's Already Here": Hadi Choopan's Top Rival Assures Bodybuilding
Fans Worried About His Participation Amidst Middle East Crisis
He captioned it, "After 23 years of pain, suffering, sorrow, slander, poverty, hard work, effort, cost, bad words, high walls full of trouble, life thieves, bad people, treacherous friends, but!!!!!!!! !!!!!!!!!!!!!!! With the help and grace of God, the prayers of my family, friends, good fans, and sacrificing the best time of my life, I reached my dreams today and I salute life. Hello life, hello world, hello peace 🙏". He is once again all set to defend the title for himself this year, under the guidance of his coach, Hany Rambod. What do you think are the chances of Hadi Choopan winning the Mr. Olympia title this year? Let us know in the comments section below!
Providing feedback will help us make your experience better.
Enjoyed Your Read? Let us know how likely you are to recommend EssentiallySports to your friends!