After being cast aside by the bodybuilding community, the fitness influencer still became famous for the surprising acts he performed and uploaded to social media platforms. Brian Johnson, famously known as Liver King on the internet has garnered millions of followers for his life choices. Recently, he injured his eye during a workout.
America's Favorite Video Today
His eye injury and the revelation have raised concern all over the web. The IFBB coach Greg Doucette has made a video describing Johnson's injury. Is it really serious as the fitness influencer mentioned,  or is it just another stunt? The answers to these questions might be difficult to find out.
People raised questions about Liver King's eye injury
ADVERTISEMENT
Article continues below this ad
Doucette shared his own point of view and uploaded a video on his YouTube channel, where he openly discussed the situation Liver King is facing. According to the latter, he had injured his eye during a workout with resistance bands. The bands had unexpectedly slipped and hit him in the eye. Before jumping into King's problem, Doucette shared about his own accident.
The 48-year-old YouTuber said, "I was in a severe car accident, slamming my head, where I sustained a head injury and had brain damage." Thankfully, doctors assured him that he would recover in approximately three months' time. Doucette reminded the viewers that he was speaking as someone who is familiar with brain damage from a similar kind of trauma.
16.5k readers Last 30 min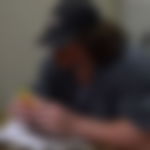 "Cannot Get Time Back on This Earth": IFBB Pro Coach Fears the Worst Amidst
Alleged Steroid Use and Shocking Diet of 21Yo Fitness Sensation
"I do believe that the liver King is being genuine but many people do not once you've lied about something in the past people often think that you're going to continue to lie and so could this," said Doucette in the recording. He has faith that maybe King isn't lying after all, but he cannot assure the people who have their doubts about Brian, especially after the videos that imply he is taking the injury lightly.
ADVERTISEMENT
Article continues below this ad
Liver King explains how he got the injury
The 45-year-old took to his Instagram, where he revealed, "I know it's so embarrassing… I'm doing the face pools with double bands, and I have them around the doorknob. Boom, boom, boom, snap. It comes off the anchor point, both of them. Four impacts: two fists to the head, bands right into the eye, and then head to the floor."
The demonstration is quite believable. Liver King seemed really stunned by the outcome, shocked at how simple equipment could cause such great harm. Since then, he's been seeking love and support from his followers for a fast recovery. The majority of people pointed out the probability that this could be yet another stunt to get views and stay relevant on social media.
ADVERTISEMENT
Article continues below this ad
Do you think Liver King is lying about all of this or did he really get hurt? Share your thoughts in the comments below.
WATCH THIS STORY: 21-Year-Old Bodybuilder Sam Sulek Dropped His Opinion Against Socializing Mid workouts
Providing feedback will help us make your experience better.
Enjoyed Your Read? Let us know how likely you are to recommend EssentiallySports to your friends!