In the race of bodybuilding, bodybuilders often have to be extremely mindful of their habits and lesser goals. These steps would ultimately help them grow into a complete whole and help them in constructing the foundation of their achievements. The God of Aesthetics, who had made his name famous for having one of the greatest balanced physiques of all time, recently shared his insights on the subject.
America's Favorite Video Today
The 81-year-old retired bodybuilder, Frank Zane, has always promoted the need to construct a symmetrical balanced body. So much so that, even after crossing 80 years of his life, he uses every possible way to make the world understand its necessities.
Frank Zane's insights on his 4-beat Mantra
ADVERTISEMENT
Article continues below this ad
In his latest interview with Dr. Ken Davis, Rob Fletcher Podcast, he unraveled a few more of his personal opinions. As the conversation continued, Zane revealed a moment from his life where he used to picture himself winning Mr. Olympia. This was done through meditation. In the interview, Zane confessed to having a mantra that had helped him visualize a positive scenario of him winning the Olympia. He stated, "I also had an associated Mantra with that."
41.7k readers Last 30 min
He then revealed that his mantra pronounced, "I have already won. Which broke down into, 'already won'". He further emphasizes each of the words in the phrase by saying, "4 beats, 'al-rea-dy won'".
READ MORE: "Pillars of Hercules": 81-Yo Legend Who Pioneered Symmetry in Bodybuilding, Demonstrates the Perfect 'Chest Exercise' to Build His Iconic V-Shaped Taper
The video records Zane's view and his own philosophy on Meditation. Not only does he express his interest in it, he also reveals how he first started to practice it.
Frank Zane reveals his inclinations towards meditation
ADVERTISEMENT
Article continues below this ad
In the video, Frank Zane also highlights how he started doing meditation from a really early age. When asked what had motivated the 14-year-old Zane to venture on such a tough track, Zane replied calmly, "When I was 14, T discovered some books on meditation. I studied them and adopted the techniques." He then emphasized how it is very important to be able to shut down one's chaotic mind. Then he ventures to point out how much time he dedicated to meditating. He stated, "20 to 30 mins, usually once a day."
Providing feedback will help us make your experience better.
Enjoyed Your Read? Let us know how likely you are to recommend EssentiallySports to your friends!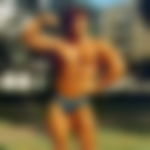 ADVERTISEMENT
Article continues below this ad
Bodybuilding requires as much mental training as physical. Meditation and wrapping one's head with positive thoughts can have an extremely good impact. The God of Aesthetics' career is a prominent example of that. Do you meditate often? Do you feel like it has the power to calm your body and improve it further? Let us know in the comments below.
Watch This Story: "You Just Signed A Restraining Order": Ronnie Coleman's Self-Proclaimed Son's Prank Turns South After 8x Mr. Olympia Asks Him To "Stay Away"