In the world of fitness and bodybuilding, some athletes defy the usual effects of aging. Despite getting older, their appearance and looks showed that age is just a number to them. Recently, three-time Mr. Olympia runner-up Rich Gaspari shared his workout video on his social media account which blew his fans' minds.
America's Favorite Video Today
Gaspari's post caused a lot of chaos among fans. His jaw-dropping back-day workout made everyone go in awe. It impressed bodybuilding enthusiasts with his fitness level, which he has maintained even in his 60s. His dedication to pursuing a healthy lifestyle is an inspiration for many who opt for excuses for not trying. In reply to a fan's question about the reason behind his youth, Gaspari revealed his secret.
Rich Gaspari unveils the reason behind his youthful looks
ADVERTISEMENT
Article continues below this ad
In his latest Instagram back-day session video snippet, the 60-year-old showcased his astounding workout, which was amazing to watch. He performed multiple exercises in this video. Apart from his drill, his response to a fan's comments caught everyone's attention.
20.9k readers Last 30 min
A user complimented him by calling him youthful, regardless of Gaspari's actual age. He said, "Looking like 30 years old. Rich never gets older." To which the former bodybuilder replied by tagging his name, "@americansupps I'm on an anti-aging protocol. (protocol) Peptides And TRT." This approach is all about controlling the effect of aging and promoting overall well-being.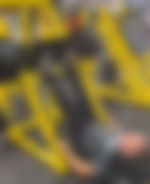 "I Have No Injuries and I Am 60 My Friend": Former Mr. Olympia Runners Up
Savagely Roasts a "Troll" Trying to Blame Him for "Ego Lifting"
ADVERTISEMENT
Article continues below this ad
The mass monster mentioned details of his workout in the video post, which he performed in the clip, "Working on back thickness with different angles of rows. Using old school medium, grip low rows then using Hammer strength top rows with t-bar rows and hammer one arm rows to build middle and lower lat thickness." Despite his age, Gaspari still engages in a highly intense training regime. He often shares his workout videos with followers and also guides them through the process. In an old video, he gave advice on how to build a massive biceps like a professional bodybuilder.
Gaspari's advice to gain biceps muscle
In the video, the former Arnold Classic champion detailed the exercise with the caption, "A great exercise to work biceps are 21's with a cable or barbell. You do 7 half reps from the top of the movement with 7 reps done at the bottom of the movement, then finish with 7 full reps. This is a great finishing exercise you can do to hit the biceps." The exercise, known as "21's," involves a combination of partial reps and full reps to provide a comprehensive and challenging bicep workout.
ADVERTISEMENT
Article continues below this ad
He recommends doing this exercise with either a cable or a barbell. This specific exercise can be done in any gym with ease and is a wise way to end a biceps workout. One can combine this quick routine with usual training to give muscles a new challenge and help them make progress. Do you find Gaspari's tips useful? Do you think his anti-aging routine is good? Share your thoughts in the comments below.
WATCH THIS STORY: Elite Powerlifter Turned Cleaner's Gym Antic Continues To Cause Uproarious Mayhem In The Fitness World
Providing feedback will help us make your experience better.
Enjoyed Your Read? Let us know how likely you are to recommend EssentiallySports to your friends!