In yet another fascinating update from the bodybuilding realm, the 2X Olympia winner grabbed the attention of his fans along with rivals, by putting Erin Banks, a men's physique champ in the limelight. The legendary figure, Banks is a victorious man with the Olympia title as his real prowess and potential. His phenomenal journey to Olympia has been an inspiration for his family and fans.
America's Favorite Video Today
On the other hand, something unexpected happened when another champion from the bodybuilding community intentionally mentioned Erin Banks in one of his Instagram videos. It really created a buzz on the internet and followers of the duo are reacting the different ways. 
2X Mr. Olympia opens up on the showing off culture preserves in the gym
ADVERTISEMENT
Article continues below this ad
Brandon Hendrickson is another legend of bodybuilding who has talked about Erin Banks. Recently, he posted a video on his Instagram account in which he indicates how some people show off body in the gym just for a camera. Along with this, he suggested people admire bodybuilding not for the camera but for their lives. According to him, the sport is more about winning championships than ego lifting. Throughout the video, he seems to be proud of his accomplishments and Olympia's victory while showing a kind of mirror to banks. 
Express his disappointment for those who work hard just to show off or for the camera, he said, "There is no reason for me to ego lift as a men's physique athlete you got to train smart, not hard. He went on to say,"a lot of guys training hard for the camera, for the video and I'm getting injured i have seen it so many times guys running their career because they wanna show off in a gym and look crazy amount of weight you notice my weight is not ever crazy." His video had a caption that said, "Stop training for the camera! Train for your life💯💪🏾🏄🏾‍♂️🌊💎"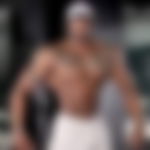 "I'm Still Crying": Mr Olympia Men's Physique Champion Left Fans Teary-Eyed
After Reuniting With Family in the Most Adorable Way
ADVERTISEMENT
Article continues below this ad
To some extent, he has shown a kind of reality that has been a part of the bodybuilding world for quite some time. However, he seems to target mainly the 2022 Arnold Classic Men's Physique, Erin Banks for his arrogant nature. Moreover, the entire bodybuilding world boiled with anger when Erin Banks won Mr. Olympia Men's Physique competition. This is because the majority considered it unfair.
Bodybuilding world filled with anger Over Mr. Olympia Men's Physique Results
Erin Banks embraced victory in the 2022 Arnold Classic Men's Physique and the 2022 Men's Physique Olympia. At the 2022 Mr. Olympia held last month, he made it to the top showcasing his matchless talent to the world. However, some from the same community were not happy after the results were announced. Indeed, he was pleased to have won the title but some disapprove of his victory. The fans were angry due to the fact that one of their favorites and a prime contender, Brandon Hendrickson was defeated by Banks.
ADVERTISEMENT
Article continues below this ad
Brandon sheds light on the fact that people work hard in the gym to just show off and for the camera. His indications seem to be obvious about Erin Banks as he was beaten by him in a Men's physique competition and the results were considered unjust. What's your take on it?
Watch This Story | "Shit I Have Been Doing": Chris Bumstead Feels Every Inch of Hard Work As Mr. Olympia 2022 Nears 
Providing feedback will help us make your experience better.
Enjoyed Your Read? Let us know how likely you are to recommend EssentiallySports to your friends!